Crambler is supported by its readers. If you purchase through a link on our site, we may earn a commission. Learn more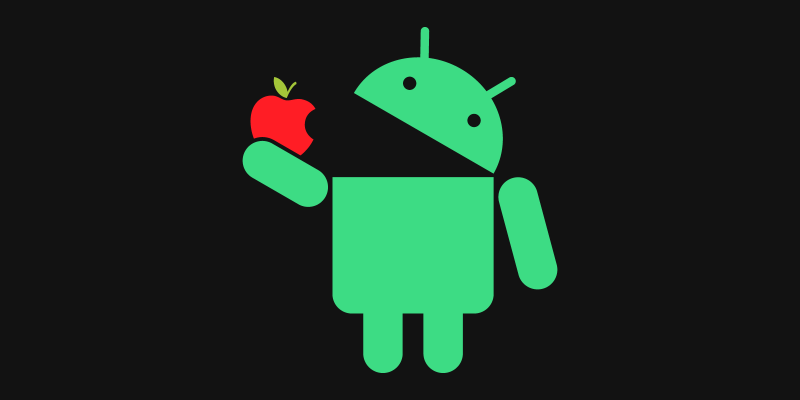 Recently Updated!
This article was recently updated with new information on September 7, 2022 after the release of the iPhone 14, iPhone 14 Pro, and iPhone 14 Pro Max. My Samsung vs Apple phone comparison between the Apple iPhone 14 Pro Max and the Samsung Galaxy S21 Ultra can be found below.
Recently, there have been releases or announcements of the Samsung Galaxy S22, Samsung Galaxy S22+, Samsung Galaxy S22 Ultra, Samsung Galaxy Z Fold3, Z Flip3, Galaxy Note 20 Ultra, Apple iPhone 14, Apple iPhone 14 Pro, Apple iPhone 14 Pro Max, Google Pixel 6 Pro, OnePlus 9 Pro, and many other phones.
Each release of a phone is like a single Mentos being dropped into a 2-liter of Coke — a new explosion of debate that overwhelms the social network about who has the "best" phone. Android! No, iOS! Galaxy S22! No, iPhone 14! The debate goes on and on.
Are Android phones or iPhones better? Read on to find out why an Android phone is better than an iPhone.
How many times have you heard iPhone users say…
"Ewww! You have green Android text messages?!"
"iPhones are better than Android phones."
"Blue text messages are SO much better."
However, when you ask them why their iPhone is better than an Android phone, they don't really have good answers?
Well, welcome to my world. 🙂 I've been hearing that from iPhone users since I bought the first Samsung Galaxy S phone in 2010.
I'm always hearing people talk about how bad Android phones are vs their iPhones. In which case I ask, why are Androids bad? I mean really, what is bad about Android?
If you haven't had a chance to use a flagship Android phone such as the Galaxy S22 or the Google Pixel 6, you're missing out. They are two of the best smartphones in 2022.
I currently own a Samsung Galaxy S10+ and it's easily the best phone I've ever owned. My Android phone has a more beautiful screen, a better camera, can do way more things with more features, and costs less than your top-of-the-line iPhone.
The fact of the matter is, Android phones have come a really long way over the years and are much better today than they ever used to be.
If you're wondering if Android or iPhone is better, keep reading to know all the advantages Androids have over iPhones.
Here are 10 reasons why an Android phone is better than an iPhone:
1. Operating System (Android)
First and foremost, I wouldn't have a list of 10 reasons why an Android is better than iPhone without talking about Android itself!
Android 13, which is the latest operating system (OS) built by Google, has come a very long way since its inception.
Gone are the days when Android would become extremely slow and bogged down, especially with a 2-year-old phone.
I can certainly vouch for the fact that Android phones used to become very slow after they were used for a couple of years. I owned a Samsung Galaxy S5 back in 2014 when I first wrote this post. It was an incredible phone, but it slowed down as time went on which was frustrating.
That being said, Apple literally admitted to purposely slowing down older iPhones in 2017 and agreed to a $500 million settlement for doing so. Talk about shady business practices.
Fast forward to 2020 when I made the best new phone decision of my life – buying a Samsung Galaxy S10+.
The phone is sleek with a stunningly gorgeous screen and not to mention extremely FAST. The best part? It's running Google Android 13.
The phone is by far the fastest I have ever used and there has been absolutely zero slow down.
The Android customization options are mind-blowing. I can change nearly every aspect of the phone to my liking and make the phone my own (more on that in the Customization section below).
One of my favorite parts of my Samsung Galaxy S10+ running Android is how personalized it feels.
The notifications, the reminders, my Google Discover news feed… it shows me exactly what I want to see when I want to see it.
Easily one of the biggest advantages of the Android operating system is the Google Assistant. If you're comparing the Google Assistant vs Apple Siri, there is no comparison. The Google Assistant is infinitely better than Apple Siri.
Ask the Google Assistant to do anything for you or a question on the web, and she will respond almost instantly with the correct information.
Ask Siri, "Is Android or iOS better?" and she'll probably respond with "I like turtles."
Google has an entire set of pages dedicated to teaching you all about Google Assistant if you want to learn more.
Pair your Android-powered phone (in my case, a Samsung Galaxy S10+) with a Google Home (or several) and you'll have a tightly integrated Android system of awesomeness.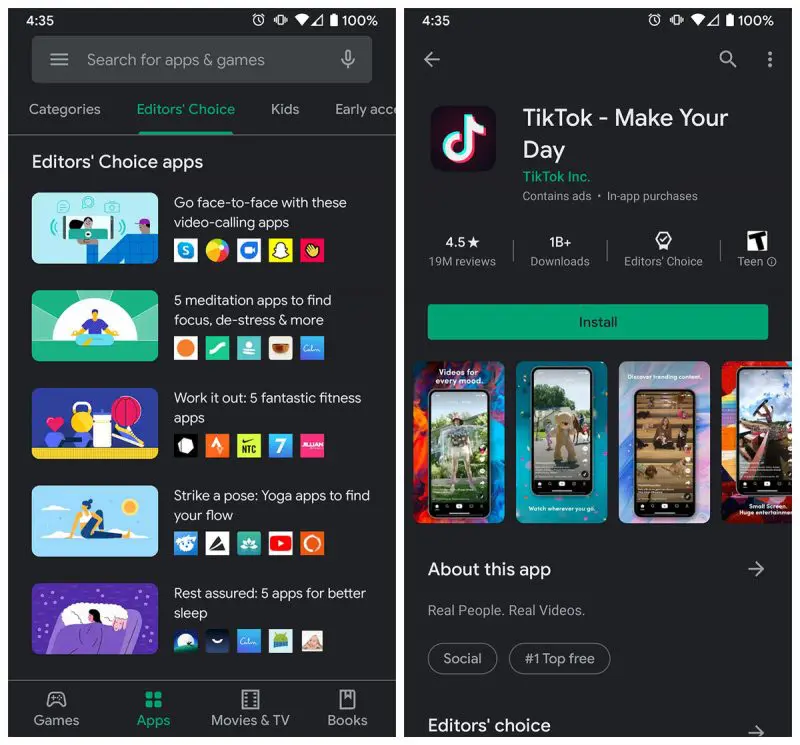 The Google Play Store is fantastic. It is well laid out, extremely user-friendly, and offers about any type of app that you can think of. They use a very simplistic UI which is beautiful. It's easy to read, they show the users what they want to see, and it's visually appealing.
I have used both the Google Play Store and the Apple App Store quite a bit. They're both very good app stores — better than Amazon's App Store, that's for sure.
2. Price & Affordability
If you are looking to buy a brand new iPhone or Android phone, do you want the best bang for your buck?
Of course you do. Who wants to pay significantly more for an iPhone which has fewer features and is less powerful than a flagship Android phone?
Easily one of the top 10 reasons why an Android phone is better than an iPhone has always been the price and affordability.
For the hardware that comes inside Android phones, Android phones offer much better value for the money than iPhones. If iPhones came with the same hardware as flagship Android phones, Apple would most likely charge almost double compared to what Android companies such as Samsung and Google charge.
As you will see in the Hardware & Features section below, flagship Android phones have significantly better hardware and more features than iPhones for less money.
Apple nickels and dimes you for everything. With the iPhone 12, Apple won't include headphones in the box anymore. Seriously, Apple? You can't throw in a pair of headphones when someone buys an $1100 phone? Nope. They want you to spend another $150 on AirPods. Ridiculous.
So, take your $1100 new iPhone, add an additional $150 for AirPods, plus $300 for your AppleCare warranty and you just spent $1550 for a phone and headphones. YIKES.
3. Hardware & Features
I believe that the hardware and features category really solidifies the debate between Android vs Apple.
People can argue all day about which software operating system (Android vs iOS) is better for this reason or that, but you can't argue better and faster hardware with more features for a much better value.
For simplicity's sake, I am only going to focus on two phones for this category: the Apple iPhone 14 Pro Max and the Samsung Galaxy S22 Ultra since they are the current flagship phones for both Apple and Samsung.
Keep in mind the Apple iPhone 14 Pro Max was released in September of 2022 and the Samsung Galaxy S22 Ultra was released in February of 2022 which means the Apple iPhone 14 Pro Max is 7 months newer. In the table below, you will see the Apple iPhone 14 Pro Max vs Samsung Galaxy S22 Ultra hardware specs comparison:
Apple iPhone 14 Pro Max vs Samsung Galaxy S22 Ultra Specs Comparison:
| | Apple iPhone 14 Pro Max | Samsung Galaxy S22 Ultra |
| --- | --- | --- |
| Operating system | iOS 16 | Android 13, One UI 4 |
| Processor | Apple A16 Bionic | Snapdragon 8 Gen 1 |
| RAM | 6 GB | 8 GB / 12 GB |
| Screen size | 6.7 in | 6.8 in |
| Screen-to-body ratio | 87.45% | 90.0% |
| Screen resolution | 2796 x 1290 | 3080 x 1440 |
| Pixel density | 460ppi | 500ppi |
| Screen type | OLED | Dynamic AMOLED 2X |
| Screen refresh rate | 120 Hz | 120 Hz |
| Brightness | 1600 nits | 1750 nits |
| Rear camera setup | Triple camera | Quad camera |
| Main camera specs | 48 MP | 108 MP (Wide-angle) |
| Second camera specs | 12 MP (Optical zoom: 3x) | 10 MP (Optical zoom: 3x) |
| Third camera specs | 12 MP (Ultra-wide lens) | 12 MP (Ultra-wide lens) |
| Fourth camera specs | N/A | 10 MP (Optical zoom: 10x) |
| Additional sensors | LiDAR | Laser autofocus |
| Front-facing camera | 12 MP (f/2.2) | 40 MP (f/2.2, autofocus) |
| Video recording | Up to 4K UHD | Up to 8K UHD |
| Storage capacity | 128GB, 256GB, 512GB, 1TB | 128GB, 256GB, 512GB, 1TB |
| Size | 160.7 x 77.6 x 7.9 mm | 163.3 x 77.9 x 8.9 mm |
| Weight | 8.46 oz (240g) | 8.08 oz (229g) |
| Battery capacity | 4,323 mAh | 5,000 mAh |
| Water-resistant | IP 68 | IP 68 |
| Biometrics | Face ID | Fingerprint, face recognition |
| Wireless charging | Qi wireless charging | Qi wireless charging |
| Reverse wireless charging | No | Yes |
| Charging speeds | 20W | 45W |
| 5G Supported | Yes | Yes |
| Price | $1,099 | $1,199 |
As you can see from the Apple vs Samsung spec comparison table, the Samsung Galaxy S22 Ultra blows the iPhone 14 Pro Max out of the water as far as hardware goes and it's not even close.
Why the Samsung Galaxy S22 Ultra is better than the iPhone 14 Pro Max:
Double the RAM (12 GB vs 6 GB)
Higher screen-to-body ratio
More beautiful pixel-dense screen
Larger battery (5,000 mAh vs 4,352 mAh)
Significantly faster charging (45W vs 20W)
Better front-facing camera (40MP vs 12MP)
Fourth camera for even better photos
Ability to record 8K video
Reverse wireless charging
With specs such as double the RAM (12 GB vs 6 GB), a higher screen-to-body ratio, a more beautiful pixel-dense screen, a larger battery, a better front-facing camera (40MP vs 12MP) significantly faster charging (45W vs 20W), and the ability to record 8K video, it should be a no-brainer that the Galaxy S22 Ultra is the clear winner when compared to the iPhone 14 Pro Max when it comes to hardware.
Not to mention, the camera improvements should be more than enough to convince you to buy a Samsung phone over an iPhone.
The Galaxy S22 Ultra has an insane 108 MP main camera, a second 10 MP camera with 3x optical zoom, a third 12 MP camera ultra-wide lens, and an added 4th camera with 10x optical zoom (vs only 3x optical zoom in the iPhone) with a laser autofocus sensor… oh, and you can record video in 8K. Who needs a DSLR camera anymore when you could put the money into a Samsung phone? 😉 Mind. Blown.
I'd buy a Samsung phone over an iPhone any day after seeing the specs above.
In fact, check out my phone comparisons from several years ago to see how dominant Samsung has been over Apple in the past: Apple iPhone 6 vs Samsung Galaxy S5 vs LG G3 vs HTC One (M8) spec comparison – You'll see that the iPhone 6 doesn't win a single category other than the "Dimensions/Weight" category with being 1 mm thinner and 0.45 oz lighter than the Galaxy S5.
You can also check out another phone spec comparison that I wrote in September of 2015: Apple iPhone 6s vs Samsung Galaxy S6 vs LG G4 vs HTC One (M9)
Here is a non-exhaustive list of hardware features that Android had well before iPhones:
Water and dust resistant – The iPhone XS was the first iPhone to be IP68 certified. Samsung had an IP68 certified phone years before Apple did.
Wireless/fast charging – The iPhone X was the first iPhone with the ability to be wirelessly charged – several years after Android had it.
Reverse wireless charging – iPhones still can't do this.
3.5mm jack (yes, tons of people still use these, Apple)
IR (infrared) blaster to control devices
Haptic feedback – The iPhone 7 was the first to introduce haptic feedback – 2 years after Android had it.
Ability to access all your files by using your phone as a mass storage device
4. Customization
My favorite part about Android phones – customization. What can an Android do that an iPhone can't? A LOT.
If you enjoy being able to customize your phone and have absolute freedom on what you can do with your phone, then Android is absolutely the way to go.
Don't like the standard keyboard that Android comes with? Easy! Just download a third-party keyboard app that replaces the stock one. Don't like the entire launcher that runs your phone? Download a new launcher. Want to make your phone have a layout exactly like a Windows phone? Yep, you can do that, too.
Where has this been with iOS? Well, Apple likes to keep things simple and user-friendly which is fine. Why, then, with the release of each iOS version, does Apple copy many things that Android has had for a long time now?
Widgets on your home screen (announced with iOS 14), predictive text on your messages, a health app, third-party keyboards, Swype texting, cloud storage for all your photos, and more. Android (thanks to Google) had all of these features long before Apple released them with new iOS versions.
After all, "imitation is the sincerest form of flattery." It's safe to say that the majority of the latest and greatest software features can be found with Android and Apple is always behind. Android wins.
5. Innovation
Android phones manufactured by many different companies have always been on top of innovation.
There are new innovative features pushed out almost every time a major company releases a new Android phone. From in-screen fingerprint sensors to foldable phones, mobile devices that run Android always seem to have a leg up on the competition.
I think most people would agree that ever since Tim Cook took over Apple after Steve Jobs passed, Apple has had next to no innovation with each new iPhone release.
Every single event that Apple holds where they announce new iPhones or an update to iOS, I always get excited hoping for something new and innovative.
However, the last several years of Apple WWDC and Apple Special Events have been yawn fests.
Apple's strategy has usually been to take new interesting features that were released, "perfect" them and then release them two years later.
"If you want a phone with all the latest features from 2 years ago, buy an iPhone."
This is a fine strategy and it works for them, however, I miss the days when Apple would surprise the masses of people with new innovative features.
6. Widgets & Multitasking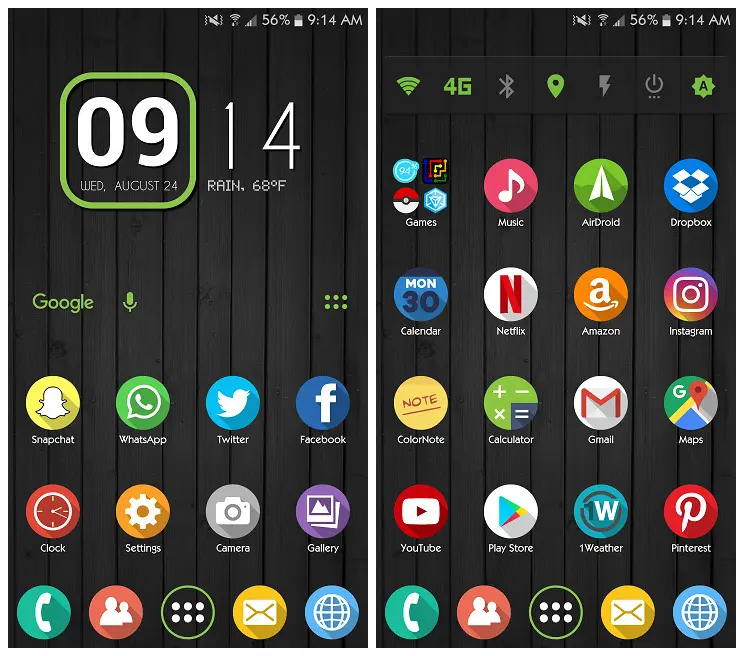 This somewhat ties in with the Customization section, but Widgets have long been a huge advantage of Android over iOS. In the past, Apple had always opted not to have widgets available on any of your main home screens to "avoid clutter." Why? Having widgets on my Android home screens is one of my favorite things about Android.
Funny enough, Apple finally decided that having widgets on your home screen was more beneficial than they thought and announced the feature with iOS 14 in 2020.
Android offers all sorts of widgets that you can put onto your home screens. These widgets might be anything from a custom clock, weather, alarms, direct calls to contacts in your phone, flashlight, email, messages, and so much more. You can arrange these any which way on your home screens and have your home screens be exactly the way you want them.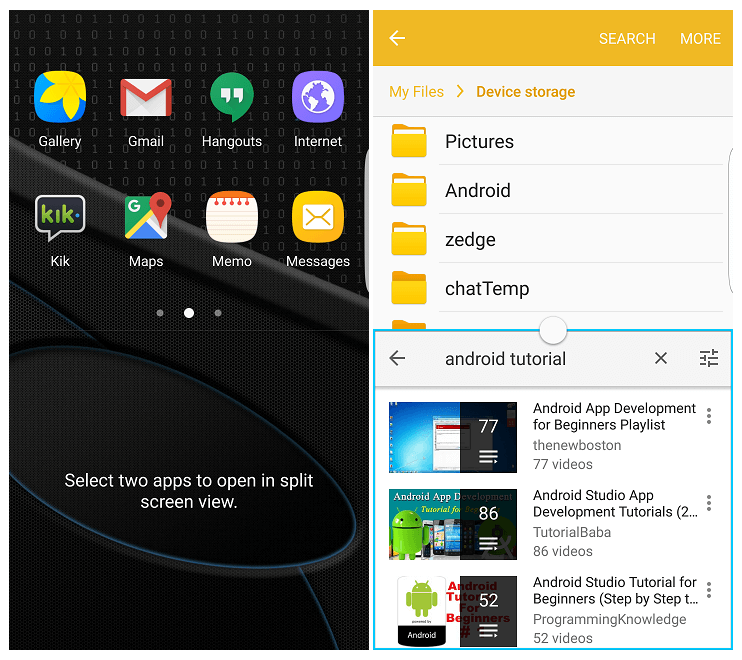 Multitasking has also been around on Android for a while, and it's extremely easy to use. You simply open up the multitask window and you can drag two apps that you want to use at the same time in the appropriate boxes (see the picture above). For example, I am watching a YouTube video while accessing my file system at the same. Perhaps you want to watch a lecture video while taking notes right below the video? Or, watch a video while texting your friends? Go for it.
**Note: Apple finally came out with the ability to multitask, however, it is only somewhat useful on iPads and larger iPhones. Since Android has had multitasking for so long and does it so well, they still take the cake over iOS.
7. Expandable Memory
The majority of Android phones offer expandable memory. That means you can pop open an additional slot on the side of your phone and put in a micro SD card which then becomes added memory to your phone.
What does Apple do? Well, they have never offered expandable memory for the iPhone. Instead, they would rather you pay them an unwarranted amount of money to upgrade your iPhone from the base 64GB capacity to one with 256GB or 512GB of internal storage.
Right now, to upgrade from the base 64GB on an iPhone to 256GB storage, Apple charges $150. To upgrade from a 256GB iPhone to 512GB, they charge $200. So, to go from 64GB to 512GB, it's a cost difference of $350. Are you serious? That's borderline thievery.
I took my Galaxy S10 Plus with 128GB of internal memory and added another 64 GB micro SD card in it and voila! My phone now has 192 GB of capacity, and how much did that cost me? $19 for the SD card. Android wins.
8. Serviceability
The serviceability of Android phones has been better (meaning easier and less expensive) than iPhones for a long time now.
Some Android phones still today have a removable battery that you yourself can take out and replace or service to your liking.
After you use any phone for a while, the lithium-ion battery inside of it will start to lose its original capacity.
It's not a matter of if the battery life will start to get shorter, it's a matter of when. That's exactly how lithium-ion batteries work. Once they go through enough charge cycles, they are only able to hold a certain percentage of their original capacity.
So, say you've had an iPhone for a year or two and the iPhone battery starts going bad. That is, the iPhone battery doesn't last as long every day as it used to and you need to charge it more often.
Well, too bad, you'll have to go to the Apple store or an Apple-certified store that can service it by replacing the battery or you'll just have to live with it.
If you were to try changing the battery yourself or had a non-Apple-certified store service it, then you can say goodbye to your AppleCare warranty (which already costs an arm and a leg).
If your Android phone has a removable battery, you can just go on Amazon and buy a generic battery for whatever type of phone you have and pop it in. Then your phone's battery is like new again! It's that simple.
9. Universal Chargers
All hail USB chargers! They are the standard charger for countless devices out there including Android phones. Nearly all Android phones use either micro USB or USB-C chargers.
What does Apple have? Well, they decided to make their own chargers called lightning cables. Not only are these different and only usable for Apple devices, but they tend to be extremely low quality.
Why would Apple do this, you ask? Because it makes them more money. If Apple switched all of its iPhones to use USB-C chargers, they would lose money.
This is because you can buy USB-C chargers for much cheaper on Amazon than what a lightning cable costs on Apple's website.
Plus, when your Apple charger goes bad, you have to fork over even more of your hard-earned money to buy a new one.
I've been using the same USB charger for my Samsung phones for over 3 years now with no problems.
On the Apple side of things, I am currently on my 6th MacBook Pro charger ($80/each) and my 4th iPad charger ($19/each) because they fall apart so easily.
Who in the world should have to pay over $300 to replace extra chargers over the lifetime of their Apple products? Coming from a company who preaches night and day about the quality of their products, Apple easily has some of the worst quality accessories and chargers I've ever used.
Want to debate the shoddy quality of Apple's chargers? Have a look for yourself at the reviews:
These are two of the main chargers for iPads, iPhones, and Macbook Pros.
UPDATE: The reviews of the Apple chargers listed above (and all of their accessories) were SO BAD that Apple completely removed the reviews on their product pages. This is extremely, extremely shady. Apple, please be ethical and allow product reviews on your pages again so people can make an informed purchase.
Back when Apple actually showed product reviews on their pages (as any company should), these are what the ratings were:
The above Apple chargers were rated an average of 1.5 out of 5 stars by 2,000+ people. I've never seen ratings so low on products coming from a company that focuses so much on their quality.
Not to mention, they charge $19 for the 1m Lightning to USB, $29 for the 2m Lightning to USB, and $79 for the MagSafe 2 charger. Once again, borderline thievery.
If you were to search for any third-party chargers on Amazon, you would probably pay 1/4 of the price as any Apple charger and I would be willing to bet they are better quality than Apple's.
10. Physical Back Button
All of the major Android phones have a dedicated physical back button. Or, nowadays, an in-screen dedicated back button.
This has always been a huge advantage in my eyes of Android phones over iPhones. Once you get used to a dedicated back button, it's hard to go back.
When you have a dedicated back button, you know how it's going to behave every single time.
Many times, you don't want to go all the way back to the home screen and rather only go one page back.
iPhone users might argue that they can just "swipe back" or hit the soft "back button" in the upper-left corner if they want to go back, but that's not the easiest option at all.
With phone screens getting larger again, reaching up in the upper-left every single time to hit a back button is neither simple nor intuitive.
With Android phones, the back button sits at the very bottom of the screen where your fingers are already resting.
Also, Androids are very customizable, remember? So, do you want the back button on the left side, center, or right side of the screen? I'm left-handed, so I like it on the left side because I use it all the time. Switch it with the tap of an option. That's the beauty of Android phones.
---
Conclusion
All in all, both Android phones and iPhones have their advantages and disadvantages. I could write an article about how an iPhone is better than an Android as well, but the Android advantages way overpower the advantages that you get with an iPhone in my opinion.
If you enjoy the advantages listed in this article such as having an abundance of phone choices, customization, better hardware, and expandable memory just to name a few, go with an Android phone.
If you enjoy a simple, more user-friendly interface for someone who may not be as technical and don't like having a bunch of customization options, go with an iPhone. Just know that you aren't getting the biggest bang for your buck.
Samsung, LG, Sony, and other major companies have started to outdo Apple, especially in the hardware department, and Apple has some catching up to do if they hope to keep competing with other flagship phones.
The best part is, all of these companies coming out with great phones constantly heats up the competition, and competition is great for us consumers. Competition is what brings us these cutting-edge technologies, phones, operating systems, and prices at such a fast pace.